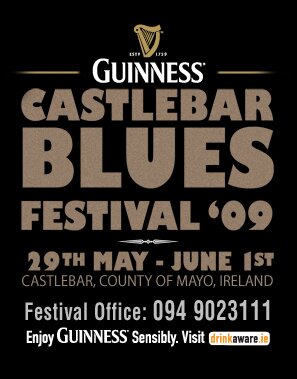 Go to WORKSHOPS Info
In Association with JABACC
(Jazz & Blues Association Club Castlebar)

BLUES TRAIL
Loose Rooster (Irl)
Fran & Mike (UK)
Grainne Duffy & Paul Sherry (Irl)
Cara (N Irl) & Hat (Aus)
The Dizzy Blues Band (Irl)
Braidner & Rooney (N Irl)
Gentleman Tim & Contenders (UK)
Left Right & Centre (Irl)
Mark Black Band (Irl)
Will Killeen (UK)

CONCERTS
Stars from the Commitments [Sun]
The Mighty Diamonds [Mon]

AFTER DINNER BLUES
Fran & Mike
and
Robinson & Fitz
[Sun]

FOR YOUNGER FANS
Workshops & Demos
in assoc. JABACC

For Collectors of
FINE MUSIC
CD & Record Fair


WELCOME

A very special welcome to visitors and performing artists
attending the 17th Guinness Castlebar Blues Festival.
We hope you will enjoy the longest running blues festival in Ireland
and that during your stay you will experience the famous hospitality
and friendliness of the Castlebar people. With over 30 gigs
performed by the cream of the international blues scene,
along with a good pint of Guinness, this weekend is indeed special.
Scroll down for venues and gig details.
By the way, I will write my case brief regarding the event. Do not forget to look at it.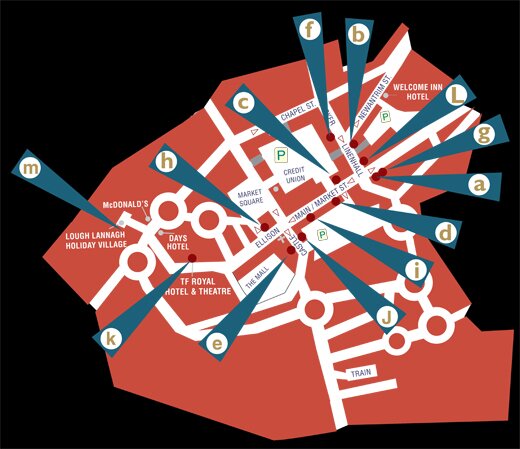 Loose Rooster
Bar One 10pm
Fri, Sat & Sun

Violent Femmes meets Roadhouse Blues!
steamy shuffles, lots of swing!
Flossie Ferguson (vocals, guitar and harmonica) and Aido Curran (lead guitar, vocals and mandolin) have been in the music business for many years and have a wealth of gigging, recording and touring experience under their belt. This, plus their prolific song-writing and musicianship means a Loose Rooster gig is an experience you won't soon forget. Acoustic blues rock classics and originals. This is their first visit to Castlebar in the popular Bar One.

http://www.youtube.com/watch?v=rWkSrI3dtmY

Fran & Mike - Irl
Bosh 10pm
Fri, Sat & Sun

Americana tinged folk & blues
Playing for over 20 years, Fran McGillivray and Mike Burke are a duo with a history in roots. Fran's relaxed yet expressive vocal style allows the songs to come alive, accompanied by Mike's powerful intuitive guitar. Originals are complimented by soulful, dynamic and powerful interpretation of blues and folk songs. Fran - vocals, bass, flute. Mike - guitars, resonator and mandola. Mike will also conduct a guitar demonstration on Sat for younger fans. Also playing TF Hotel Sun 4pm - After Dinner Blues

http://www.youtube.com/watch?v=-Ig7AC6M37g





Grainne Duffy/Paul Sherry - Irl
Bungalow 10.30pm
Fri, Sat & Sun
Gutsy, husky, in-your-face Blues!
Blues & country rock vocalist and guitarist Grainne has had a hectic 2008 - countless gigs, including Glastonbury, and BBC/RTE radio & TV appearances as well as working on a new album. Paul's (crowned 'Worldwide guitar player') dazzling and edgy playing and fine song-writing & vocals give the band a unique sound - Ronnie O'Flynn - drums and Davy Watson - bass. The band made their debut Castlebar appearance last year, taking the Bungalow by storm - hold fast!.

http://www.youtube.com/watch?v=-hEfSqXoGsk





Cara & Hat - N. Irl & Aus
Mick Byrnes 10.30pm
Fri, Sat & Sun

Heart-felt soul & jazz, with an edgy Hat!.
Cara Robinson (vocals, flute & cajon drum) has been writing and recording with notable artists from a huge range of musical genres. She has toured worldwide and her track 'No Love Child' was recorded by Corinne Bailey Rae. Cara will conduct a vocal workshop on Saturday for younger fans.
http://www.youtube.com/watch?v=ALFY30PImH0&feature=
PlayList&p=DC6C670F7DED5A55&playnext=1&playnext_from=PL&index=5

On metal-bodied resonator guitar, Hat Fitz has almost got the Freedom of Castlebar and of Byrnes pub! A frequent visitor, he plays early Delta blues classics and his own songs.
The duo will also play theTF Hotel Sun 4pm - After Dinner Blues and will also open for 'The Mighty Diamonds' (Royal Theatre) on Monday at 9pm.

http://www.youtube.com/watch?v=CGFCAqoJgfc





Dizzy Blues Band - Cork
Castle Inn 10.30pm
Fri, Sat & Sun
Lee-Delta Powerhouse Blues!
This band certainly know how to play the blues. These musicians, steeped in the Blues tradition, are iconic figures in the Cork blues circuit and have played all over Europe. Together for over 16 years they have gelled together to form a tight and skilled unit. Pat Horgan - vocals & guitar, Richie St. John - vocals & guitar, Ger Horgan - vocals & bass and Christy Healy - vocals & drums. The Dizzy's are set to rock the Castle
yet again.

http://www.youtube.com/watch?v=_pV7eOkG_kY



Braidner & Rooney - N. Irl.
Coxs 10pm
Fri, Sat & Sun
Driving & pulsating
Mark Braidner sings and plays blues with an uncompromising nod to original 1920s and '30s sources. His playing of blues guitar is clean and authentic; and his mastery of styles, ranging from ragtime and hokum to slide guitar, speaks for his versatility. Slide guitarist, Dermot Rooney, was described by the Irish Times as 'an astounding bottleneck blues guitarist'. The duo performs some of the finest original acoustic blues songs and some of their own compositions with classic musicianship and elegance.

http://www.youtube.com/watch?v=uaYgdCYjQYQ





Gentleman TIm & The Contenders - UK
Half Cut Bar
Fri & Sun: 10.30pm.
Sat: 5pm

High energy Rhythm & Blues
With influences deeply rooted in early 50's-style Swing, West Coast and Chicago Blues, this group are one of the hottest! Led by the inspirational harmonica player and vocalist Tim Corbett, they deliver a brand of high energy jumpin' blues, guaranteed to put a smile on your face. The band bob and weave their way through great classic blues - Geoff Peel - guitar, Ed Hopwood -
drums and Paul Davis - bass.

http://vids.myspace.com/index.cfm?fuseaction=vids.individual&VideoID=40472373






Left, Right & Centre - Irl.
Irish House 10.30pm
Fri, Sat & Sun

Blues from three of the greats.
Tributes to the music of the greats: Muddy Waters, Leadbelly and all the Kings, Freddie, Albert & BB. Ireland's finest who have played with the who's who - Van Morrison, Paul Jones, Skid Row, Mary Black, Frankie Miller, The Business, Fleadh Cowboys, Jagger, The Rumboogies .... Ed Deane - guitar & vocals, John Quearney - bass & vocals and Noel Bridgeman - drums & vocals. Noel will also conduct a percussion workshop on Saturday in the Linenhall for younger folk.

http://www.youtube.com/watch?v=rM6h-4LCHGE&feature=PlayList&p=A083C008995D071B&playnext=1&playnext_from=PL&index=3






Mark Black & Roots Band - Irl
Mulroys 10.30pm
Fri, Sat & Sun
Dynamic and unique live act
An alternative slice of rootsy blues with celtic and middle eastern influences.
In addition to being an exceptional musician, Mark is a natural born performer, has just released his second album, and is billed for Glastonbury '09. This live show features a 3-piece power house dynamite explosion of rhythms, didgeridoos, amplified 12-string acoustic guitars and lap steels, drums and bass. Seamus Devenny - drums/percussion, Martin Smyth - bass, both of whom also have a strong vocal presence.

http://www.youtube.com/watch?v=oJFjx9rgEMc&feature=channel




Will Killeen - UK

Rays 10.30pm
Fri Sat & Sat

A walking blues histroy manual!
Ireland's finest acoustic blues export since Rory
Gallagher, Killeenis considered to beone of the foremostslide guitar players in Europe. Equally dazzling as a finger picker he also plays banjo and harmonica and sings with a voice steeped in early American Blues. Born in Mayo, he taught himself guitar from an early age, influenced by Howlin' Wolf, Doc Watson, The 'Stones and Dylan and has performed worldwide from his London base - Blues, Country, Celtic, Eastern and Rock.

http://www.youtube.com/watch?v=t9rrMgPjqB4






The Stars from
The Commitments - irl
TF Royal Theatre
Sun 11pm

All The Heart... All The Soul... All The Music from
'The World's Hardest Working Band' - Live in Concert.
The energy and excitement of Alan Parker's movie transferred into a thrilling, unforgettable live experience that will stir your soul, featuring original Commitments stars Ken McCluskey (guitar & vocals) and Dick Massey (drums & percussion). The Stars From The Commitments have played to millions of fans at sold-out festivals & concert venues worldwide for over 10 years. Their concerts feature all the greats - Mustang Sally, Try a Little Tenderness, Chain of Fools, Take Me to The River, In the Midnight Hour and many more! The other members are: Joe Walsh (lead & vocals), Karen Coleman & Claire Malone (vocals) Bob Hunt & Daniel Healy (saxophone & trumpet) Stephen Foley (bass) & Darragh O'Kelly (keyboards). The Commitments 1st album has sold in excess of 7 million copies, the 2nd over 5 million, with the movie already seen by over 1 billion people worldwide.

Tickets e25 inc booking fee.
Tickets on door, TF theatre box office, phone 0818 300 000,
Ticketmaster outlets or www.ticketmaster.ie
Limited seating.

http://www.youtube.com/watch?v=-kNa70vJ-kY

www.royal.ie








The Mighty Diamonds - Jamaicia
Opened by Cara Robinson & Hat Fitz

TF Royal Theatre
Mon 9pm

Roots reggae with a strong Rasta influence, from a Jamaican vocal harmony trio, formed in 1969 in Trenchtown, and remaining together to this day. Soulful, pure harmonies and tight, catchy songwriting. Best-known for their debut albums Right Time and Deeper Roots, Tabby, Bunny and Judge have produced over 40 albums in their long career. Two of their greatest songs are Go Seek Your Rights and I Need A Roof both from the mid 1970s. The latter was remixed in a techno style in the mid 90s. Pass the Kouchie also became a hit when first released and then again when it was covered by Musical Youth as Pass the Dutchie.

http://www.youtube.com/watch?v=7mQp9J7UvVM&feature=related

Tickets e15 inc booking fee.
Tickets on door, TF theatre box office, phone 0818 300 000,
Ticketmaster outlets or www.ticketmaster.ie
Limited seating.

www.royal.ie




CD & Record Fair.

TF Royal Hotel all weekend
From Abba to Zappa! Vinyl, CD's, Videos and Tapes at sensible prices. Large collection of Early Jazz and Blues. Rare American releases/60's/ Folk, Irish and American / British Rock - Pink Floyd, Hendrix, Stones, Beatles, L.P.s & singles. Punk, C & W. Progressive rock, big Traditional Irish collection.
www.robberyrecords.co.uk




Music Workshops

at the

Linenhall

- workshops

Music Workshops

at

Lough Lannagh

Book through the Linenhall

- workshops





CONTACT US

Festival Office
TF Royal Hotel & Theatre
Old Westport Rd.
Castlebar, Co Mayo, Ireland
094 9023111

Box Office
0818 300 000
International:
+353 94 9023111
Email:

TF Royal Hotelwww.tfroyalhotel.com
Royal Theatre www.royltheatre.ie
Castlebar info website: www.castlebar.ie
JABACC www.jabacc.ie

Workshop Bookings 094 90 23733

Music Coordinator Larry Roddy
Lemonstown, Dunlavin
Co Wicklow, Ireland
Ph: +353 (0)45 864017



ACCOMMODATION SPECIALS
(posted as we are notified)
_____________________________

TF Royal Hotel, Festival Package:
(5min walk to town Centre: 094 9023111)

€109.00 Bed & Breakfast.
Price is per room,
based on 2 persons sharing per night.

€268.00 Dinner, Bed & Breakfast.
Price is per room, for 2 nights
based on 2 persons sharing.

€69.00 Single occupancy
Bed & Breakfast
_____________________________
For other accommodation not listed above, visit www.castlebar.ie